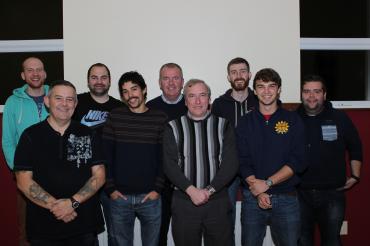 Our first involvement with Cavan Baptist Church was at the Sunday morning service. A number of team members participated in the service. Other regular church events allowed the team to be involved in the Women's meeting, the Kids TNT club and the Midweek discipleship classes.
Every morning, we had the opportunity to share devotions at the assemblies in the Royal School in Cavan. The rest of the mornings and afternoons were spent between StPatrick's College,Breifne College, Loreto College and Moyne Community School. Ateach location, the team shared 'What Baptists Believe' with different religious studies classes.At the end of each class, the team answered questions from the pupils and teachers about issues relating to what had been said.We also had an invitation to take five RE classes inCrubany National Schooland Scripture Union in the Royal School.
Door to door evangelism also formed a major part of our itinerary for the week. It was great to be able to participate in this work with members from the church. There were many opportunities to share the gospel and challenge people from many different backgrounds about their view of God.
Our week in Cavan was a real blessing for all who were part of the team. We want to extend our thanks to Pastor Ivan Watson and all the people from the church, who made us very welcome and provided our meals each day. Being part of this evangelism team has given us a real insight into the work in Cavan and we pray that God would continue to bless the work and the church as it continues to reach out.
(Written by Paul Hackett and published in abci insight magazine)