The Armagh Team - Evangelism Week 2014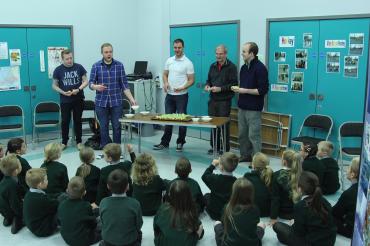 The theology books were put to one side (for most of the week) and it was fancy dress time for the Armagh evangelism team. The Amazing Journey was in town and our team was able to assist the members of Armagh Baptist Church, as they brought the Bible's story to numerous primary schools throughout the city and district. A busy schedule ensured that over 1,400 boys and girls heard the gospel story explained during the week.
Team members also participated in other aspects of the church's work. From giving testimonies at Stauros (Addiction Centre) to gospel meetings in residential homes for the elderly, each team member took part in sharing the Good News.
The privilege of being part of a week assisting Armagh Baptist Church was compounded by an awareness that this work continues. This was not a week simply put on to accommodate a college team, but rather a week in which the college team participated in assisting a work that is already moving.
So far, since The Amazing Journeypresentations, a number of children from the schools visited have written to request their own Bible. Please pray for the work in Armagh as it continues, long after the team has returned to their studies.
(Written by Stephen Cassells and published in the abci insight magazine)