Armagh Evangelism Team 2017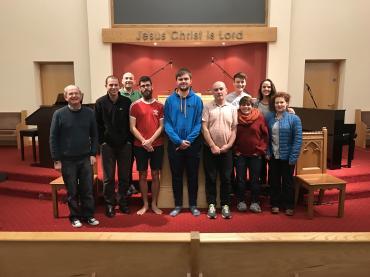 Each day the team divided into two groups: One group participated in door-to-door outreach in Keady, a town of approximately 3,000 people in south Armagh. We invited people to services to be held in the TMAc (local community centre) and gave out literature.
There were many good Gospel conversations and many positive responses. The second group went with Aaron Riddle and Phil Martin to take The Amazing Journey presentation into five schools in the Armagh area. Team members dressed up as Bible characters like Moses, Esther, Rahab and Thomas to deliver the message of 'God's Great Rescue Plan' to the children. The children then had an opportunity to dress up themselves and try some Bible food, such as bread and honey.

On the Sunday night, Bertie Coffey spoke in the Armagh Church and Lydia Jones sang. In Keady, Paul McAdam shared God's Word, with Victoria Patrick testifying. The team also gladly participated in the mid-week meetings in the Church.
'Thank you' to the Church for their hospitality and for providing more than enough food for the team each day. A special thanks to Ian Grant (pastor) for inviting us to get involved in the church's outreach.
Please pray for the continued outreach into Keady, and for many souls to be saved, for God's glory.