Hamilton Road Evangelism Team2017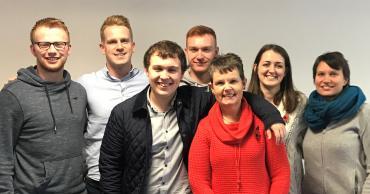 Seven IBC students spent evangelism week with Hamilton Road Baptist Church. We were shown great hospitality - given a welcome reception, and then we were allocated to our hosts.

During our time at the Church, we were given the opportunity to take part in the Bangor lunch bar outreach, door-to-door evangelism and children's ministry. The children's ministry included Parent and Toddlers and children's meetings in Hamilton Road Baptist and Kilcooley Presbyterian. We also took part in the Scripture Union groups in Glenlola, Regent and Bangor Grammar.
At the lunch bar outreach students gave short apologetic talks, for 6-10 minutes on a variety of topics such as 'Did Jesus really exist?'; 'Why does God allow suffering?' and 'Is Jesus the only way?' This allowed visitors to the bar to hear the gospel and also allowed conversations about the gospel to be started.
We were also given training for evangelism by Steve Wright (Newtownbreda) and Mervyn Scott (Baptist Missions), as well as a lecture on how to prepare a sermon by Jonathan McClaughlin.

The team left at the end of the week more fully equipped to faithfully serve the church of God and blessed by the teaching, hospitality and generosity of Hamilton Road Church.