October 2014 - IBC team goes to Dundalk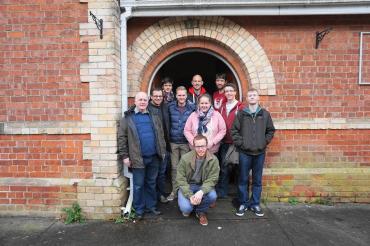 We arrived in Dundalk on Saturday, 18,October 2014, and settled in relatively quickly. After tea we got down to some song practice for the Sunday Services.
On Monday morning, Paul, Elisha, Johnny Watt and Jamie Brennan were taken by Kevin Marley (Dundalk Baptist Liaison manager and all-round great guy) to appear on Dundalk FM100's Town Talk radio show. Each one of the participants negotiated some tricky questions with expertise, while managing to advertise The Ark - the main event of our week. Later on, some of the team travelled to Dundalk Institute of Technology to hand out flyers. It was surprising how many people were willing to listen to what we had to say, regardless of their interest in the subject. Richard and I remained behind with Kevin to attend a talk on the value of life. There we met a girl who seemed heartbroken and this encounter would remain with us throughout the week. In the evening, Alvin, John, Stephen Parke and I were special guests on the church radio show, Heart of the Matter, on which we all managed to share the glorious gospel.
The Ark was held on Thursday evening. God, in his great mercy and faithfulness, ensured that the place was filled to the point where we almost ran out of chairs. Testimonies were given by Elisha and Denver, and Johnny gave an insightful presentation, punctuated by music from Dundalk Baptist Church worship band. All was freely broadcast across Dundalk on Dundalk FM100. This event was based around a remarkable scale model of The Ark, built by a member of Dundalk Baptist Church, while he was poorly. The model was displayed throughout the day for all to see what Noah's Ark actually looked like.
Reflecting on this week, the words of John 11:40 (NASB) seem perfect '...If you believe, you will see the glory of God'.
(Written by Josh Hyde for abci insight magazine)