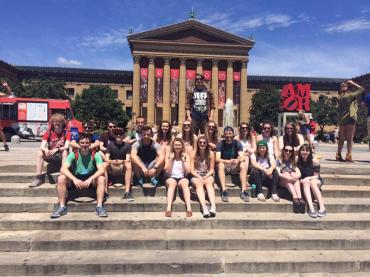 The purpose of my trip, with Edenderry CE, was to help at a summer camp based in Grace and Peace Community Church, Philadelphia. This camp gives children, of primary age, the opportunity to enter into a culture saturated in grace and ultimately serves to demonstrate the love of Jesus to the community of south Philadelphia. For many of the kids, this love environment is a distant reality to the world and homes where they live.
Philadelphia has a large part of my heart, especially the community of believers at Grace and Peace. This trip was the fifth consecutive summer that I have had the privilege of helping serve at camp. One thing that I was continually reminded of was the fact that God in his mercy is able to work in hearts and lives irrespective of how well prepared or versed our classes and answers are. I realised that all too often I place my hope and confidence in how well prepared I am for a situation, and how skilled I am for a task, rather than rooting my assurance in Christ. through this trip, I was reminded to ask God for his help and guidance in each circumstance - I became more aware that I was involved in a spiritual task.
Throughout the summer camp, I was also able to analysis the influence culture has upon an individual reacting to the gospel. It was a challenge to articulate the good news of Jesus to children who do not respect authority or acknowledge God as their father - their experience of fatherhood is often extremely negative. Overall, the trip was a rich and beneficial experience for all those involved. The countdown for summer camp 2017 has begun.