Irish Baptist College Conference (Online)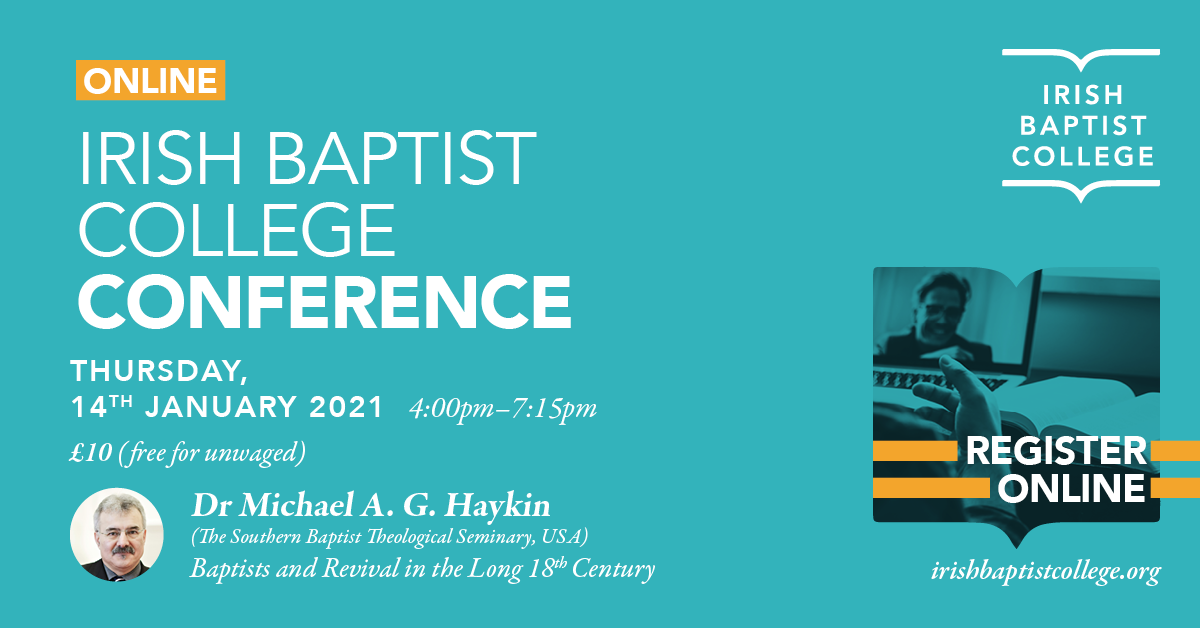 Irish Baptist College Conference (Online)
The College is delighted to be hosting Dr Michael A. G. Haykin (Professor of Church History and Biblical Spirituality at the Southern Baptist Theological Seminary, USA and Director of the Andrew Fuller Centre for Biblical Studies) online at the inaugural Irish Baptist College Conference on Thursday 14th January.
The aim of the conference is twofold. First, it will seek to provide students, pastors, and interested individuals with an opportunity to hear from renowned international scholars in their field of expertise. Second, it will also create an environment in which to consider the application of such study for contemporary Christianity. It is hoped that the conference will be an annual online event that will foster diligent devotion ignited by biblical truth.
This year Dr Haykin will address the conference under the title: Baptists and Revival in the Long 18th Century. Revival is something that is frequently prayed for and yet, it seems, infrequently experienced. The College hopes that by reflecting on church history we might be better informed and thus better equipped to seek revival on God's terms. The conference promises to be a fruitful and stimulating event and it would be great if you could join us.
The schedule for the event is as follows:
4:00pm - Introductions and session one
5:00pm - Break
6:00pm - Session two, followed by Q&A
7:15pm - Finish
Tickets cost £10 and are available at: https://www.eventbrite.co.uk/e/irish-baptist-college-conference-tickets-129473106547. It may be possible to avail of free entry to the conference if you are unwaged. To do so please contact registrar@thebaptistcentre.org with your name and status (student, retired, etc.).
We would encourage you to share the information about this conference this freely and widely.