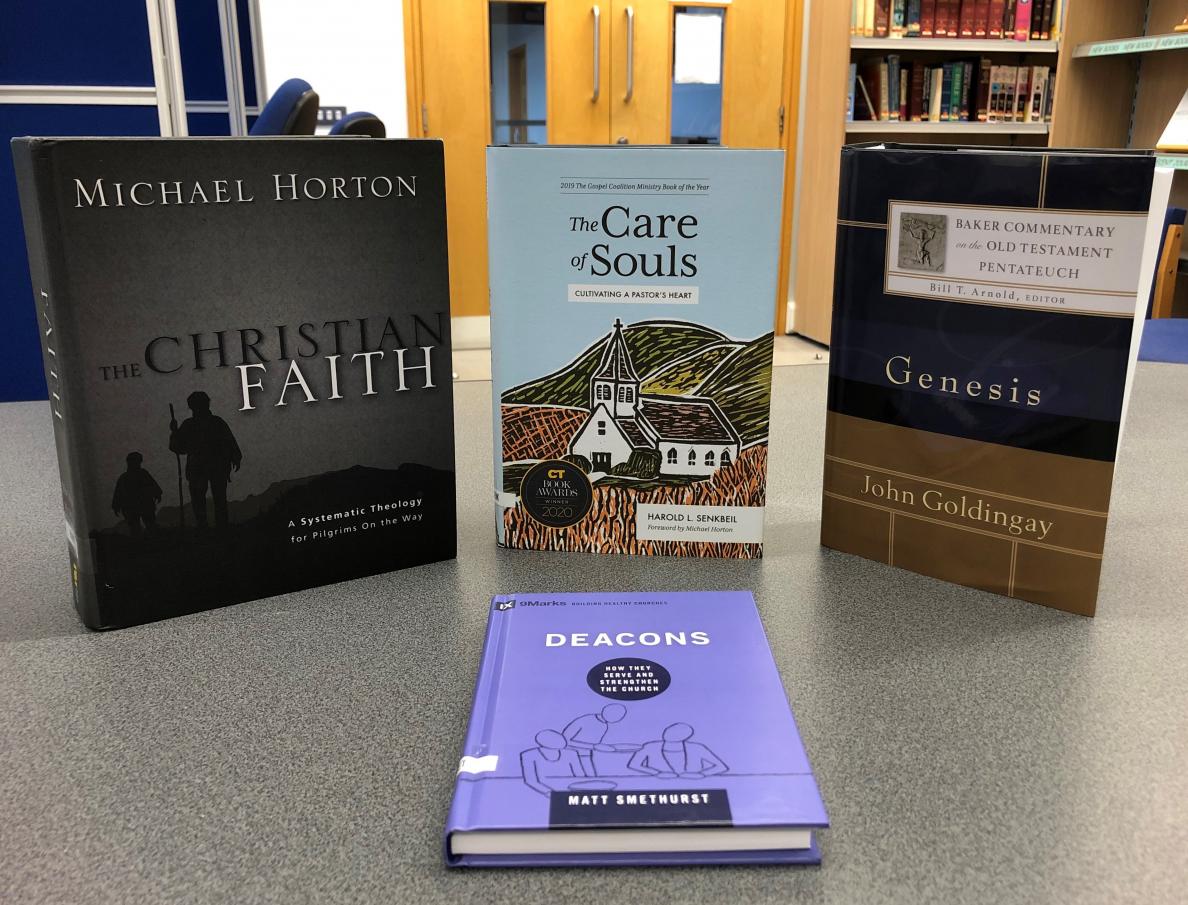 Some New Books
This blog highlights four good books which are new to the College library.
This helpful little book is part of the 9Marks series on Building Healthy Churches.
Deacons: How they serve and strengthen the church by Matt Smethurst (2021)
How can deacons mobilise service in the church? Deacons are essential to a church's health—yet confusion abounds regarding their biblical job description. What's their God-given role in a local congregation and how do they relate to the church's overall mission? In this short book, Matt Smethurst makes the case that deacons are model servants called to meet tangible needs, organise and mobilise acts of service, preserve the unity of the flock, and support the ministry of the elders. Clearing away common misconceptions, Smethurst offers practical guidance for deploying deacons and helping churches to flourish.
The College consistently seeks to remind the students that all they are doing in College is preparing them to love God and his people. Senkbeil's book will hopefully help them to think more deeply about the task that lies before them as pastors.
The Care of Souls: Cultivating a Pastor's Heart by Harold L. Senkbeil (2019)
Pastors care for a soul in the way a doctor cares for a body. In a time when many churches have lost sight of the real purpose of the church, The Care of Souls invites a new generation of pastors to form the godly habits and practical wisdom needed to minister to the hearts and souls of those committed to their care. Harold Senkbeil helps remind pastors of the essential calling of the ministry: preaching and living out the Word of God while orienting others in the same direction. And he offers practical and fruitful advice—born out of his five decades as a pastor—that will benefit both new pastors and those with years in the pulpit. Drawing on a lifetime of pastoral experience, The Care of Souls is a beautifully written treasury of proven wisdom which pastors will find themselves turning to again and again.
Genesis is without doubt a foundational book in the Christian canon. It is for this reason that we introduce it to our students in first year. This commentary promises to be a useful aid as the students dig into the biblical text.
Genesis by John Goldingay (2020)
John Goldingay offers a substantive and useful commentary on the book of Genesis that is both critically engaged and sensitive to the theological contributions of the text. This volume is the first in the Baker Commentary on the Old Testament (BCOT): Pentateuch series, which complements the popular BCOT: Wisdom and Psalms series. Each series volume covers one book of the Pentateuch, addressing important issues and problems that flow from the text and exploring the contemporary relevance of the Pentateuch.
Systematic theologies continue to embrace creative ways of presenting a summary of Christian doctrine. Horton's tome looks like another helpful addition to the library and for those completing biblical theology assignments.
The Christian Faith: A Systematic Theology for Pilgrims on the Way by Michael Horton (2011)
The Christian Faith is written for a growing cast of pilgrims making their way together and will be especially welcomed by professors, pastors, students, and armchair theologians. Its features include: (1) a brief synopsis of biblical passages that inform a particular doctrine; (2) surveys of past and current theologies with contemporary emphasis on exegetical, philosophical, practical, and theological questions; (3) substantial interaction with various Christian movements within the Protestant, Catholic, and Orthodox traditions; and (4) charts, sidebars questions for discussion, glossary, and an extensive bibliography, divided into different entry levels and topics.